Friday January 28, 2022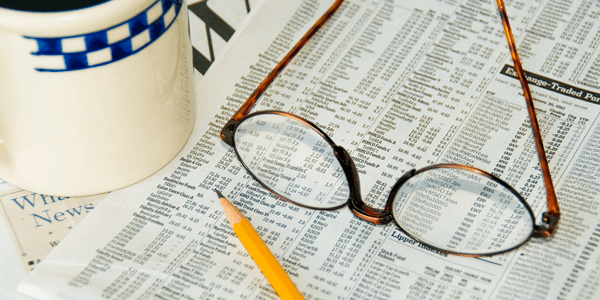 Wells Fargo Rides Strong Earnings
Wells Fargo & Co. (WFC) released its first quarter earnings report on Wednesday, April 14. The San Francisco-based company's stock jumped 5% on Wednesday following the release.

Wells Fargo announced revenue of $18.06 billion for the first quarter. This was up from $17.72 billion reported in the same quarter last year and exceeded analysts' expectations of $17.52 billion.

"Our results for the quarter, which included a $1.6 billion pre-tax reduction in the allowance for credit losses, reflected an improving U.S. economy, continued focus on our strategic priorities, and ongoing support for our customers and our communities," said Wells Fargo CEO Charlie Scharf. "Charge-offs are at historic lows and we are making changes to improve our operations and efficiency, but low interest rates and tepid loan demand continued to be a headwind for us in the quarter."

The company reported earnings of $4.74 billion or $1.05 per share for the quarter. This was well above earnings of $653 million or $0.01 per share reported last year at this time.

Wells Fargo released $1.05 billion from its reserves during the quarter, improving its bottom line. The institution had set aside the funds for anticipated loan defaults during the pandemic. Wells Fargo's balance sheet is still operating under fines, penalties and civil claims from a 2016 settlement involving alleged widespread fraudulent account openings. Additionally, Wells Fargo's net interest income fell from $11.31 billion at this time last year to $8.8 billion in the quarter, due to the low interest rate environment.

Wells Fargo & Co. (WFC) shares ended at $43.84, up 8.4% for the week.


JPMorgan Chase Reports Earnings

JPMorgan Chase & Co. (JPM) released its first quarter earnings report on Wednesday, April 14. Profit and revenue beat analysts' expectations.

JPMorgan posted quarterly revenue of $32.3 billion, beating revenue expectations of $30.52 billion. Revenue was $28.3 billion at this time last year.

"We continue to make significant investments in products, people, and technology, all while maintaining credit discipline and a fortress balance sheet," said JPMorgan Chase CEO Jamie Dimon. "We are fully engaged in trying to help solve some of the world's biggest issues, and we announced a commitment to finance and facilitate $200 billion in 2020 to drive action on climate change and advance sustainable development. We remain committed to using our resources to drive inclusive solutions to support our employees, customers, clients and the communities we serve through these trying times."

For the quarter, JPMorgan reported net income of $14.30 billion or $4.50 per share, above the $3.10 per share anticipated by analysts. Net income was $2.87 billion or $0.78 per share at the same time last year.

JPMorgan Chase released $5.2 billion in reserves this quarter which were set aside for anticipated defaults due to the pandemic. The bank maintains credit reserves of $26 billion. The world's biggest Wall Street bank, based on total revenue, saw a 222% increase in investment banking revenue during the quarter.

JPMorgan Chase & Co. (JPM) shares closed at $153.30, down 1.5% for the week.


PepsiCo Earnings Exceed Expectations

PepsiCo, Inc. (PEP) released its first quarter earnings report on Thursday, April 15. The iconic drink and snack company continued to see strong sales in its first quarter despite a decrease in consumer pandemic stockpiling.

PepsiCo posted quarterly sales of $14.82 billion, exceeding analysts' expectations of $14.55 billion. This is up from $13.88 billion reported at the same time last year.

"We are pleased with our results for the first quarter as we successfully overcame challenges related to difficult year-over-year comparisons, uneven recoveries across many of our international markets and weather-related business disruptions in the U.S.," said PepsiCo CEO Ramon Laguarta. "Following our first quarter results, we have greater confidence in delivering on our financial guidance for the full year."

For the first quarter, PepsiCo reported net income of $1.71 billion or $1.24 per share. This is up from $1.34 billion or $0.96 per share reported at this time last year.

PepsiCo's portfolio includes brands such as Frito-Lay, Quaker Foods, Tropicana and Gatorade. In its guidance for the full year, the company affirmed the expectation of a mid-single-digit increase in organic revenue. It affirmed a high-single-digit increase in earnings per share and an estimated total cash return to shareholders of $5.9 billion. $5.8 billion of that is comprised of dividends.

PepsiCo, Inc. (PEP) shares closed at $144.16, up 1.4% for the week.

The Dow started the week at 33,775 and closed at 34,201 on 4/16. The S&P 500 started the week at 4,125 and closed at 4,185. The NASDAQ started the week at 13,854 and closed at 14,052.
Treasury Yields Uncharacteristically Decline
Yields on short-term U.S. Treasurys dropped somewhat unexpectedly Thursday after the release of two reports showing improved economic data. A strong retail sales report and better-than-expected jobless claim numbers would usually spark an increase in yields.

Retail sales jumped 9.8% in March according to a report released by the Commerce Department on Thursday. This rate was well above the 5.3% expected by analysts and the second largest rise on record. The unusual bond yield decline was attributed by some analysts to be the fulfillment of investors already factoring in economic progress that would be made due to the availability of vaccines and stimulus money encouraging consumer spending.

"Bonds are doing better because they're viewing the economy as possibly slowing," said Andy Brenner, head of fixed income at National Alliance Securities. "Stocks are doing better because interest rates are going lower and the economic numbers, which are backward looking, are really good."

The 10-year Treasury note opened the week at 1.660%, reached as high as 1.702% on Tuesday, but fell to 1.536% on Thursday. The 30-year Treasury bond opened the week at 2.333% and reached as high as 2.367% on Tuesday.

Jobless claims fell to 576,000 for the week ending April 10, down from 769,000 reported by the Labor Department the week before. The number of individuals receiving unemployment benefits was reported at 16.9 million for the week ending March 27. This is down 1.2 million from the week before.

"We are seeing both a strong reopening and rehiring in the economy at this time," said Oxford Economics Kathy Bostjancic. "It's been faster than most economists expected."

The 10-year Treasury note yield closed at 1.58% on 4/16, while the 30-year Treasury bond yield was 2.28%.
Mortgage Rates Dip
Freddie Mac released its latest Primary Mortgage Market Survey on Thursday, April 15. The report showed a drop in rates since last week.

The 30-year fixed rate mortgage averaged 3.04%, down from 3.13% last week. At this time last year, the 30-year fixed rate mortgage averaged 3.31%.

This week, the 15-year fixed rate mortgage averaged 2.35%, down from 2.42% last week. Last year at this time, the 15-year fixed rate mortgage averaged 2.80%.

"Mortgage rates took another dip this week as the 30-year fixed-rate mortgage decreased by almost ten basis points, week over week," said Freddie Mac's Chief Economist Sam Khater. "The economy is improving on the demand side and on the supply side, a variety of goods and materials remain scarce. As a result of this imbalance, pricing pressures are building and causing inflation to rise. Despite the pause in mortgage rates recently, we expect them to increase modestly for the remainder of this year."

Based on published national averages, the national average savings rate was 0.07% for the month of April. The one-year CD finished at 0.15%.
Published April 16, 2021
Previous Articles
Simply Good Foods Reports Earnings
Dave & Buster's Reports Earnings